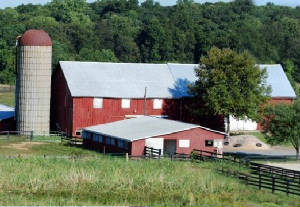 Rolling Acres Show Stables, Inc. is managed by Patty Nicholson Foster and Mary Lisa Nicholson Leffler, daughters of Samuel & Janice Nicholson. This is the training and hunter/jumper showing segment of the family business. Patty and Mary established their business in 1993 and have been very successful. We've set up a Frequently Asked Question page for an overview of our program.
Rolling Acres Farm is a well-established, family-run Hunter/Jumper boarding facility located in Montgomery County, Maryland. Our staff has over 40 years' experience in the care and handling of horses.

Rolling Acres is a historic, 200-acre farm located in Montgomery County, Maryland. The farm was an original land grant from Lord Baltimore to the Gaither family. Samuel & Janice Nicholson, owners of Rolling Acres, purchased the farm in 1972. The farm currently has 3 generations of the Nicholson family actively participating in the farm. The Boarding operation consists of one 31-stall barn attached to a 80' x 150' indoor arena. The second barn is a historic bank barn converted to 32 stalls. Horses are turned out every day, weather permitting, in 22 paddocks. Rolling Acres Farm produces all the hay used to feed the horses. Our staff lives on site to allow for the most secure environment for the horses. Rolling Acres is located next to State parkland and many trails lead through the farm and into the surrounding area.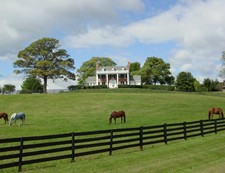 Rolling Acres Show Stables is one of the top Hunter/Jumper training facilities on the East Coast and competes in A-rated and local shows. Our staff has experience from leadline to international Grand Prix competitions.

Patty & Mary both train, as does Melanie Wright. Sheryl Sutherby is the Show Manager and has been with the company since 2001. Shows consist of both local and national competitions. Each year, Rolling Acres attends the HITS Ocala Winter Circuit and the Vermont Summer Festival. Those that qualify for indoors attend Capital Challenge, Pennsylvania National and the Washington International Horse Show. Local shows such as Culpeper, Swan Lake and McDonogh are also on the show schedule. A complete schedule is available for review on the Upcoming Shows page.Horses are accepted for training and sales. Lessons are given for both adults and children. A complete listing of services is available. For additional information concerning sales, leasing or training, please call Patty Foster at 301-461-7159